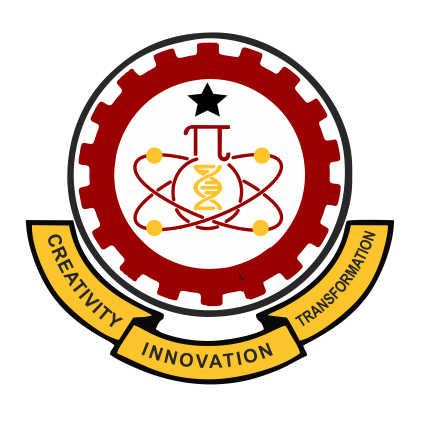 Double Helix – for DNA
Representing the biological sciences, genetic engineering and the health and allied sciences in general
Gear
Represents applied technology, working with all the parts to drive towards the vision
Black star
depicting the national emblem of African emancipation from slavery and in this case academic freedom for research suitable for Africa and beyond.
Atomic Rings
(Representing the physical sciences and portraying our commitment to the global quest for knowledge (i.e., orbiting around the globe).
Round bottom Flask
Portraying our commitment to effective laboratory-based research/inquiry.
Cover of the Beaker
The mathematical pi portrays our strength in the mathematical sciences.
The Colour Background of the Logo
The brick-red, white, and black background and outline colours depict the art forms and colours of the people of Upper East Region.
These colours have therefore been chosen to make a statement that the University is embedded in the traditions of the people; a commitment that the university is focused on impacting the people in the locality positively.
Aside this, it is said that red is the first colour that the human eye can perceive upon birth, next to black and white. Therefore, the use of these colours affirms the fact that our University has been born; and not only born but is vibrant and passionate about our mandate (the reddish colour), pursuing everything modern (the white colour) and that we want to command the attention of our audience and let them know that we are confident in the difference we are established to make (the yellow colour).
Motto
Our motto is Creativity and Innovation for Transformation
Creativity: Our university is focused on challenging the potential of the minds of students, staff and faculty to conceive new ideas.
Innovation: To facilitate our mission of transforming society CKT-UTAS is determined to, on a continuous basis, introduce change into the landscape of tertiary education in Ghana.
Transformation: Our university aims at engaging in the type of teaching, learning, research and community engagement aimed at producing the type of students and outcomes capable of improving society.